PERSONALIZED IRIS PAPER FOLDING DESIGNS!
• Unique, original and affordable gifts for everyone in your life! •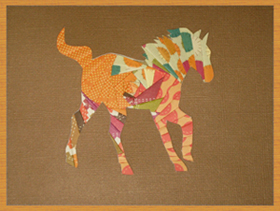 This I believe: there is no better gift than a piece of original art. On the other hand, a personalized piece of orignal art will put you over the top in the "incredibly thoughtful gift giver" category!

The piece at left was rendered from a favorite photograph and gifted to my very tall niece Vera, a capable teen who lovingly cares for 17 horses on the farm where she lives. Kind and knowlegable, she also teaches horseback riding to children with disabilities and competes in a variety of local equine events. I am in awe of her, because this is what most defines and informs Vera's spirit, her gentleness AND her strength.

So, whether you want to celebrate a person's hobby, occupation or passion (or whatever it is you think defines them), my distinctive Iris Paper Folding creations are guaranteed to elicit whatever you're going for — laughter, tears, sighs...or awe. It's true. I've witnessed this first-hand!
SO...WHAT ON EARTH IS IRIS PAPER FOLDING YOU ASK?
Well, the technique originated in Holland and is so-called because of each design's
resemblance to the iris of the eye or the shutter of a camera, as illustrated at left.

Traditionally, origami paper is used for the main design and holigraphic paper used in the center (or pupil) of the design.

I artistically stray from the tradition and choose not to treat the center in this manner. I use a wide array of paper types, colors and textures for the entire design, filling in the iris, to give the piece a finished look. My designs still honor the concept of this technique and the result is a beautiful abstractness and sort of planned randomness, lovely and magical in their UN-exactness.

In my designs (unlike traditional iris paper folding), areas within the main shape sometimes take on a representational quality, but this is not done in a literal or detailed way, so images can remain free and flowing — look particularly at the sailboat and Lone Ranger examples in the gallery below.
SO, LET YOUR IMAGINATION RUN WILD AND YOUR MIND WANDER!
Think about your family, friends and co-workers and YOURSELF! Consider the many occasions and milestones that shape our lives — birthdays, holidays, anniversaries, engagements, weddings, retirement, graduation, a recognition of achievement, or even a symbol of heritage and ethnicity...or a favorite sports team, logo, or favorite flower! *
See?? The possibilities are simply endless!
I am certain that I will be able to help transform your ideas into an extraordinary and treasured gift, consulting with you on design, color palettes, stock and mat colors.

Designs are created with 80 lb. quality textured card stock in a dizzying selection of colors, quality paper, double matting and quality frames (optional) in TWO stock sizes. You can purchase each design with or without matting and frame, or made into a one-of-a-kind card with envelope. Pricing is detailed below. Now...if your idea cries out for a larger format, I can price that out too.
---

SIZE

DESCRIPTION

W/O MAT/FRAME

W/ MAT/FRAME **

6 X 8 CARD & ENV.

8" X 8" stock


For a 5" X 7" or smaller mat opening


$25 + shipping

$50 + shipping

$25 + shipping

8" X 10" stock

For a 5" X 7" or larger mat opening


$30 + shipping

$60 + shipping

n/a

* One thing to keep in mind when considering a design choice: photographs of PEOPLE will render a design that is representative, so finer dddetails like facial expressions or eye color will not be integrated into the design. Best to steer clear of this choice if you want those finer dddetails.

** All framed pieces are professionally finished, hanging hardware installed and have a printed salutation & description affixed to the back.


Pre-payment arrangements can be made either through PayPal or by check.

---




Alissa's gift arrived today and it is unbelieveable! Thank you so much!

— Jack C.

"Just wanted to drop you a line to say (again!) how much I appreciate your art. "The Lone Ranger"
has gotten so much attention from everyone who see's it. I take pleasure in watching the faces of
family and friends, when they take a closer look at the picture, followed by the inevitable question,
"How was it done?" You've given to the "Ranger", a truly unique color and dimension. It is the jewel
in my collection. Looking forward to adding more of you're wonderful work in the future." — Bob


I've been carrying it around under my arm because I don't want to put it down!
— Brad E. upon receipt of a folding of his beloved '49 Willys Jeep




IRIS PAPER FOLDING CREATIONS


---

All items pictured here, with exception of The Lone Ranger and the Tanqueray bottle are done on 8"X 8" high quality textured paper stock.

Please click on the image to enlarge.

UNFRAMED EXAMPLES


For Trish, a colorful nursing school administrator

For Karen, a dedicated orchestra conductor

For Bob, a diehard
Lone Ranger fan

For Jim, a silhouette
of his favorite tall
ship, The Adventure

For Rachel, the writer
of a song about a girl
named Tanqueray



For Vera, the
gentle horse girl

For Phoebe, who
loves purple and who
has a heart of gold...
and green and red.

For Alissa, on the occasion of her vocal recital at Mansfield U.

For Carol, an avid birdwatcher & writer
of childen's stories
about talking birds



For Stephanie,
lover of all things
ocean-going.
VISIT OFTEN FOR NEW ADDITIONS TO MY GALLERY!



FRAMED EXAMPLES



For Jim, maker
of spicy chili

For Michael,
from Canadia

For Natty & Brad,
who look incredibly
hot in a pair of Keens®

For Lila Sage, a new
beautiful baby girl
living far far away

For Brad and the 1949
Willys Jeep he
lovingly restored.
For Julia, for her
14th birthday!
For Martha, a tropical
fish enthusiast.
For Mac for someone
who likes cows!
For Asher on the
occasion of being born.
Momo Charles, Jen and
Mike's traveling monkey.
Please do e-mail me with any questions or to arrange a phone consultation!
Check back again soon for newly added designs!

---